(Amy's Great Grandma)
Butterfly Day
Butterfly, (who sometimes responds to the alias "Butterflutterfly")..being Alice's daughter, shares her love for toys, and her ability to wrap you around her little paw. She is famous for her one-leggy-wiggle-into-your-lap maneuver, which her sister Corvina hasn't quite mastered. As a puppy she was always the fiestier of the near twins, finding her share of puppy mischief (she got it from her daddy Hoover, says Alice..) but as an adult has used her intelligence for good by showing her eagerness to learn, being very attuned to her humans wishes and picking up on commands quickly.
*Retired and Spayed Into a Happy home in 2006.
Ckc Registerd

15 Pounds

Black, Brindle and white

Strong petite slender body

C.E.R.F & B.A.E.R & Petella's Certifed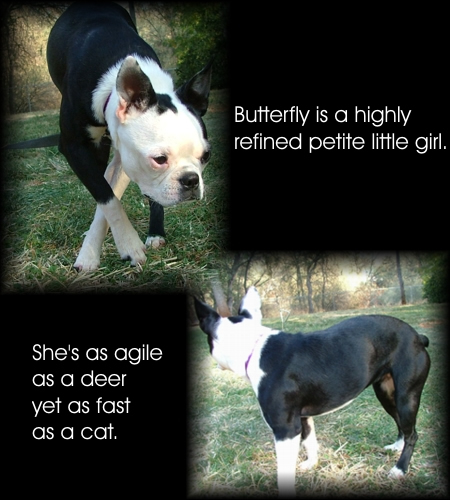 (Amy's Great Grandpa)
Pepito Day
Pepito is the smaller classic yet stocky looking Boston. He has such charm, gentlness, sweet demeanor and heart. He very confident and really does not know he is so small. He gets along woth everything and anyone.
*Retired and Neuterd Into a Wonderful New home in 2005.